Good Egg Safety Guides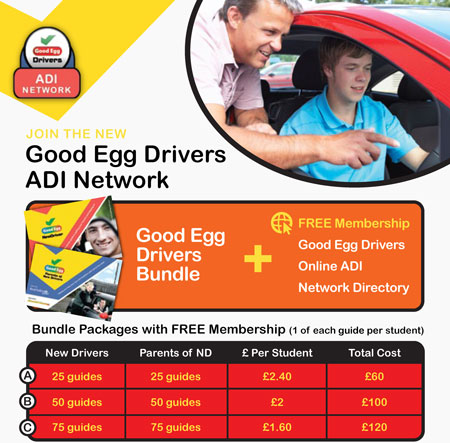 Good Egg Safety is the multi-award winning go-to brand for road safety that aims to reduce casualties for vulnerable road users including young children, new drivers and older persons.
Fully endorsed by organisations such as Road Safety GB, RoSPA, ACPOS and Road Safety Scotland, Good Egg Safety has a range of easy-to-read guides designed to provide crucial information for staying safer on the road and around the home. These guides include The Good Egg Guide to In-Car Child Safety, The Good Egg Guide to Parents of New Drivers, the New Driver Guide and The Older Persons Guide to Road Safety.

A brilliant teaching tool
Good Egg Guides are not just a first class resource, they are a great teaching tool too. Together with our exclusive free downloadable questionnaires, these guides can greatly reinforce your pupil's knowledge and understanding, and the need to continue to practice safe driving long after they have passed their test. Supplying the Good Egg Guides will not only enhance your lessons, but also your driving school's reputation. You will be providing invaluable help and advice on the key messages of safer driving, including:
the latest facts on the potential dangers faced by new drivers
best practice for supervised driving
preparation for the driving tests
why new driver's premiums are so high
common offences and their penalties
driving under the influence
avoiding in-car distractions
the law and new drivers
buying their first car
tips on insurance and more
Help prepare your students for getting their licence and what to expect afterwards with The Good Egg Guide for New Drivers. Endorsed by Road Safety GB this glovebox-sized resource covers everything from taking the driving tests to safer driving practices, buying a car and getting insurance.



Purchase a bundle of the NEW Good Egg Guides for New Drivers and Parents and not only will you receive these vital teaching tools for your students but you will also become a Good Egg Drivers ADI Member for FREE.
You will receive the ADI badge to display on your website and also be listed on the Good Egg Drivers ADI Network Directory at www.goodeggdrivers.com


Become a member today and receive FREE Student and Parent Quiz sheets!
Purchase a bundle today and not only will you become a member of the Good Egg Drivers ADI Network Directory but you will also receive student and parent quiz sheets and answer sheets to use to compliment your lessons. (These are supplied in pdf format via email)
Good Egg New Driver Guide
This high quality 24 page, A5 guide is essential reading for all new drivers and helps prepare your students for getting their licence and what to expect afterwards.
It is the perfect addition to the instructor's toolkit, providing your pupils with an invaluable resource that will help to reinforce the key messages of safer driving. It highlights the biggest risk factors for new drivers including driving to conditions, driving under the influence and in-car distractions.
Together with our professionally produced FREE Guide Questionnaire, with instructor Answer Sheet, you can help your pupils become safer, more responsible drivers.
The Good Egg Guide for Parents of New Drivers


This 36 page high quality A5 booklet aims to dramatically reduce casualty rates by providing parents with an easy-to-use tool filled with tips for keeping their son or daughter safer, as well as a simple breakdown of relevant laws and what they mean.
Road collisions are the leading cause of death for 16-to-24-year-olds in the UK, with new drivers being most vulnerable within the first six months of gaining their licence. Furthermore, 40% of all car passengers killed or seriously injured were being driven at night by a newly qualified young driver.
---
BUNDLE A: Good Egg Drivers Guides

25 New Driver Guides plus 25 Parents of ND Guides for only £60 (inc P&P), that's only £2.40 per student!


Order now for just


£60.00


(Code GEGPK25)


AVAILABILITY : NEW EDITION COMING SOON
DELIVERY: 4 - 5 WORKING DAYS
---
BUNDLE B: Good Egg Drivers Guides

50 New Driver Guides plus 50 Parents of ND Guides for only £100 (inc P&P), that's only £2.00 per student!


Order now for just


£100.00


(Code GEGPK50)


AVAILABILITY : NEW EDITION COMING SOON
DELIVERY: 4 - 5 WORKING DAYS
---
BUNDLE C: Good Egg Drivers Guides

75 New Driver Guides plus 75 Parents of ND Guides for only £120 (inc P&P), that's only £1.60 per student!

Order now for just


£120.00


(Code GEGPK75)


AVAILABILITY : NEW EDITION COMING SOON
DELIVERY: 4 - 5 WORKING DAYS
---