ADD TO BASKET

Click here To buy AlcoSense Breathalysers


AVAILABILITY : IN STOCK
DELIVERY : 3 - 4 WORKING DAYS
(UK MAINLAND)
AlcoSense - Breathalyser Blow Tubes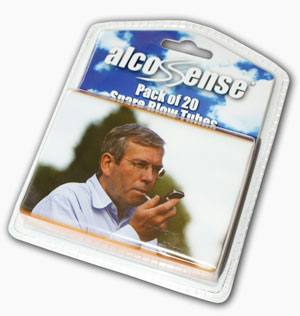 Pack of 20 spare blow tubes for use with AlcoSense breathalysers.
Every time you use a AlcoSense breathalyser you should use a new blow tube to ensure hygenic use and extend the life of the unit. Blow tubes help to reduce the amount of moisture in your breath reaching the alcohol sensor inside the system.
Important: Use only AlcoSense genuine blow tubes. The blow tubes are designed to tight tolerances to ensure a tight fit against the AlcoSense breathalyser. This reduces the amount of air which can escape, therefore increasing the accuracy of your reading.
feedback
"With the agreement of my pupils I've said that I would test any pupil who I felt might be suffering the after effects of alcohol. I met one pupil, who had cancelled a lesson about two hours earlier. He asked if he could check to see if he was near the limit, It was 11.30 in the morning and he tested positive. He admitted that had I not had the AlcoSense he may well have turned up for the lesson. Other friends have tried it 'The Morning After' and been amazed that they are near or over the limit."

Maurice Neal, Mullion, Cornwall.