Ideas4ADIs know that time is money for ADIs and we don't want our customers having to wait in all day for their parcels to turn up, which is why we use Interlink Express "Predict" delivery service with a one-hour delivery window for many of our products. Just look out for the logo on the product pages. This is how it works:
Firstly you'll receive an e-mail confirming you parcel has been dispatched and what day it will be delivered
Secondly on the day of the delivery you'll with receive a text* and/or an e-mail with an hourly delivery slot.
Thirdly if this is not convenient you can use the text or email to change the delivery date.
* You'll only receive a text if you have given us your mobile phone number as your contact number

ADD TO BASKET

Buy ADI Presenter Expansion
Pack 1 & 2

and save £££

- click here

Discounts available for bulk orders - email us.

AVAILABILITY : IN STOCK
DELIVERY : 3 - 5 WORKING DAYS
(UK MAINLAND)
Ideas4ADIs - PDI Bundle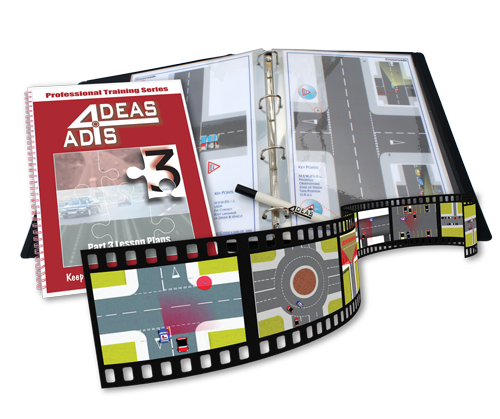 We've put together the complete bundle of ideal in-car teaching aids to help you pass your Part 3 test.
ADI Lesson Presenter
This indispensable visual aid will last for years and give valuable support to any PDI/ADI whether recapping, briefing or discussing lesson topics. NB: Ringbinder may vary from that illustrated
Features include:
You can view or download a PDF file listing the contents of the Lesson Presenter, click here to view the PDF.
PDI Part 3 Lesson Plans
Designed to compliment our highly praised Part 3 Presenter, the Part 3 Lesson Plans contain 14 pages of comprehensive guidance notes for the 10 Pre-set Test (PST) subjects. Together with the Part 3 Presenter, this makes the ideal training aid to help you prepare for the DSA Part 3 Exam.
Key Features include:
Presented in PST order, for easy use
Printed in full colour
Laminated and wire bound
Lesson plans contain:
Lesson objectives
Recap questions
PST key points – each broken down into teaching points (Phase 1)
Typical faults (Phase 2)
Useful prompts
Approximate timings
Coloured text and banding making it easier to find the information you need

Video Downloads - All Clips
By popular demand, we have now made the Ideas4ADIs Animated Lesson Presenter Video clips available for download. These video clips are an excellent in-car training aid taken from our highly praised DVD. There are 43 animated video clips covering 15 key driving syllabus subjects, including all the reversing manoeuvres, in real time motion.
No more toy cars rolling under the chair, or inky fingers from rubbing off pen marks. The video clips clearly illustrate essential observations, driving routines, priority rules and typical hazards.
Using a your Android or iPad tablet media player you can pause, rewind and play again and again. The simple animated graphics allow you to deliver a briefing and stimulate interaction and discussion with your pupils to keep your lessons moving.
These video clips have no audio commentary - that is for you to provide.

Includes all 43 clips from the 3 available bundles:
Bundle 1 - Junctions contains five sets of animated video clips:
Approaching to Turn Left
Approaching to Turn Right
Emerging
Crossroads
Roundabouts
Click here for clip details.
Bundle 2 - Reversing Manoeuvres contains five sets of animated video clips:
Turn in the Road
Reverse to the Left
Reverse to the Right
Reverse Park (Bay)
Reverse Park (Road)
Click here for clip details.
Bundle 3 Road Manoeuvres contains three sets of animated video clips:
Moving Off & Stopping
Meeting
Overtaking
Click here for clip details.
Important note: Please be sure to download the files initially to your PC or Mac, as they are compressed zip files, which makes them smaller to download, however, to be able to play them you must first unzip/uncompress the files. If you don't have a program to do this we would recommend WIN RAR, which you can download for free (no need to purchase). Once you have unzipped them, extract the video files to a separate folder and delete the MACOSX folders and DS_Store files, which are produced as part of the compression process. Keep a back-up copy of the video files on your computer and then transfer the files to your iPad via iTunes or via SD Card or direct link to your Android tablet. If you need help with your iPad click here. For Android devices check the User Manual.
feedback
The presenter looks ace, I'm well chuffed. This is full of pictures with a few keywords and I work by pictures far better so I am one happy bunny, the quality is superb. I love the lesson presenter and I am pleased to say I bought the expansion pack to top notch!!"
Hayley Thomas ADI, HND Driving School, Salisbury via www.drivertrainingtoday.co.uk ADI Forum